Contact
Phone: 06 06 41 60 90 E
mail: joannapoterie24@gmail.co
m Address: Lake Road

St. North Geraud, 24700 St. Body Geraud Meet Joanna McKinnon, the artist behind "the pottery of St Géraud" …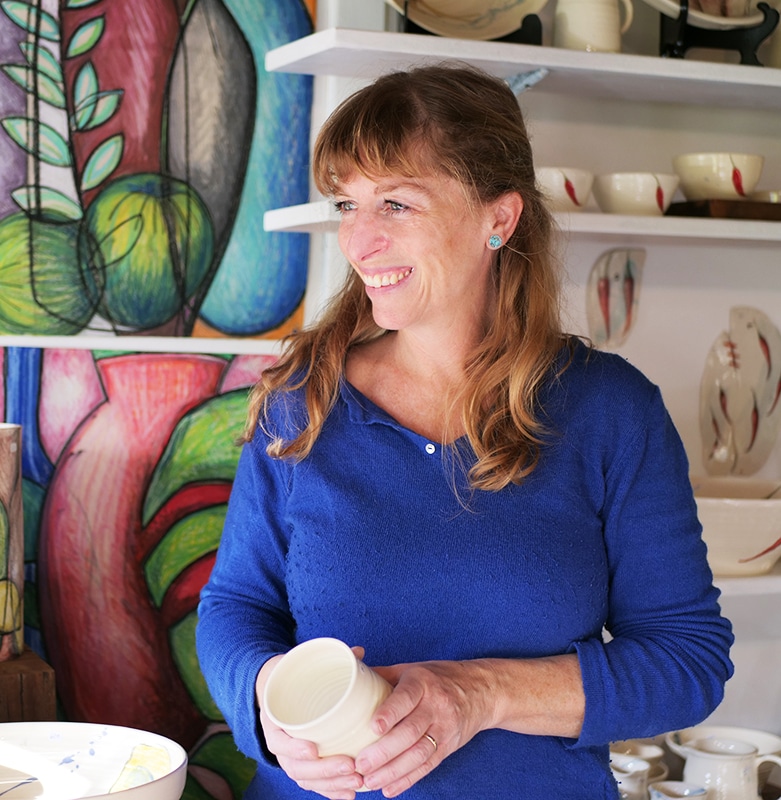 Art, we can say that this is Joanna's life, you could almost say that she was born with pencils and brushes in her hands!
Joanna, who has always painted and drawn, studied Art History at university in England and trained in ceramics. And until her final move to France in 2008, she taught these subjects to middle and high school students.
The love of France, and the Périgord Pourpre in particular, led her to settle with her family in the small village of Saint Géraud de Corps, where she set up her studio. 
She makes sculpture, pottery, she draws, she paints …

Good to know: Joanna also takes orders for individual pieces for special occasions such as weddings and anniversaries.
"I am constantly inspired by nature and natural shapes and each piece is individually made and finished by hand with a piece of my soul. "
Classes for children and adults
Joanna likes to pass on, that's for sure! With gentleness, patience and kindness, she opened classes for adults and also for children, during the school holidays, in her workshop.
She teaches every Wednesday morning 10am-12pm and every Thursday 10am-12pm and 2pm-4pm. No need to register year-round, you can choose to register whenever you want! And if the course is full… you sign up for the next one!

It's always so rewarding to discover what you can do with your 10 fingers and leave with your creation!
Latest news: Ends of series!
End-of-series sale 4 euros per piece or 4 for 12 euros. Great items with a discount at more than half the price! Contact Joanna for more details or come and see for yourself at the workshop!
Joanna will be very happy to welcome you to her workshop
Monday: on rdv
Tuesday: 9am – 5pm
Wednesday: closed in the morning (course)
on afternoon appointment
Thursday: closed (course)
Friday: on rdv
Saturday: on rdv